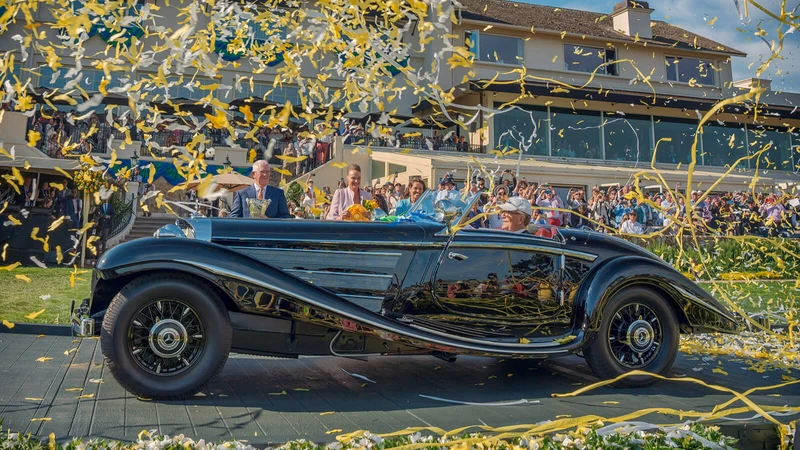 Un roadster Mercedes-Benz de preguerra cuyo primer propiedad fue del Sha de Afganistán, y uno de tres autos similares que sobreviven en el mundo al día de hoy, consiguió el Best of Show en el Concours d'Elegance de Pebble Beach 2023, el evento cúlmine con el que cierra una intensa Semana del Automóvil de Monterey.
Este año compitieron 216 autos de 18 países, y entre todos ellos destacó este Mercedes-Benz 540K Special Roadster de 1937, presentado por Jim Patterson, de la Patterson Collection de Louisville (Kentucky), quien consigue así su tercera victoria en el evento de la costa californiana.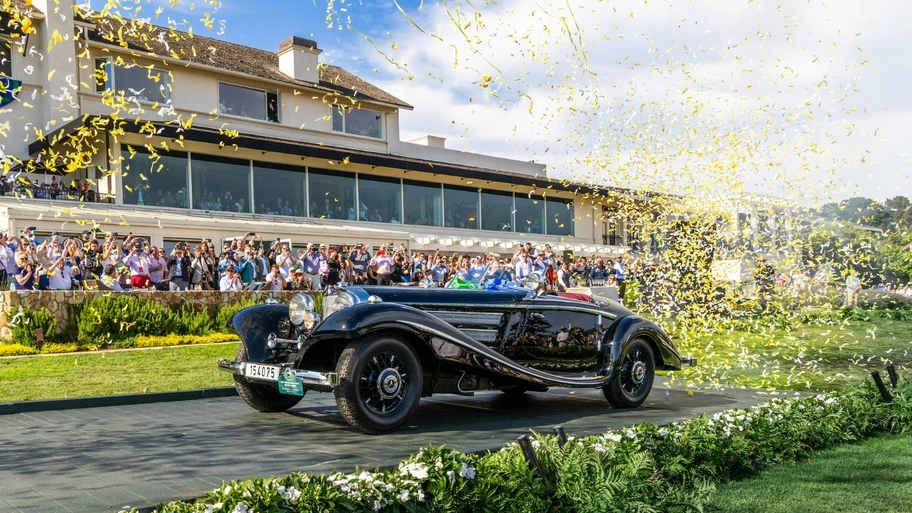 Fotos: Pebble Beach / Rolex Media
"Este 540K equilibra la fuerza con líneas y estilo amplios, y su historia es única", dijo la presidenta de Concours, Sandra Button. "Al hablar con Jim sobre este auto, me impresionó el tiempo y el pensamiento invertido en esta restauración. Cada pieza de este hermoso Mercedes-Benz fue investigada con tanto cuidado para honrar su historia".
Con esta victoria, Mercedes-Benz rompe el empate que tenía como Bugatti con la mayor cantidad de victorias en el Best of Show en Pebble Beach, alcanzando 10 victorias en 72 ediciones del concurso.
El Mercedes-Benz 540K Special Roadster superó en la final a otro Mercedes-Benz, un 710 SS Special Roadster de 1930, a un Alfa Romeo 8C 2300 Corto Figoni Cabriolet de 1932, y al Delahaye 165 Figoni et Falaschi Cabriolet de 1939.
Lista de ganadores
BEST OF SHOW
1937 Mercedes-Benz 540K Special Roadster
Jim Patterson/The Patterson Collection, Louisville, Kentucky
PREMIOS DE ELEGANCIA
Convertible más elegante
1950 Talbot-Lago T26 Grand Sport Saoutchik Cabriolet
Steve & Marilee Hamilton, Washoe Valley, Nevada
Auto cerrado más elegante
1937 Bugatti Type 57S Atalante
William E. Connor Family, Hong Kong
Auto abierto más elegante
1937 Bugatti Type 57S Corsica Open Sports
Lord Anthony Bamford, Rocester, United Kingdom
Auto deportivo más elegante
1960 Ferrari 250 GT SWB Competition Scaglietti Berlinetta
Rob Kauffman/RK Motors, Charlotte, North Carolina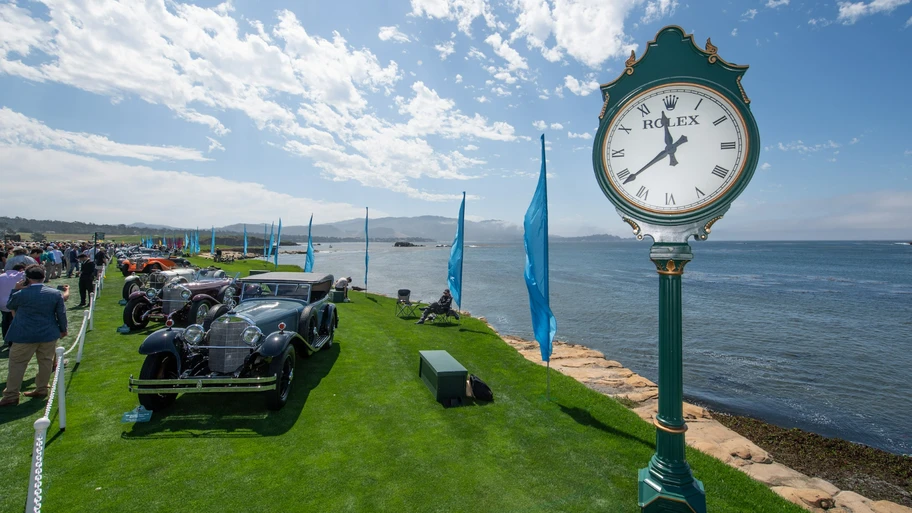 PREMIOS ESPECIALES
Alec Ulmann Trophy
1936 Hispano-Suiza J-12 Saoutchik Cabriolet
The Keller Collection at the Pyramids, Petaluma, California
Ansel Adams Award
1923 Rolls-Royce Silver Ghost Pall Mall
Laura & Jack Boyd Smith Jr., Elkhart, Indiana
ArtCenter College of Design Award
1963 Porsche 901 Prototype "Quickblau" Karmann/Reutter Coupe
Alois Ruf, Pfaffenhausen, Germany
Briggs Cunningham Trophy
1954 Edwards America Convertible
Gary & Cathy Edwards, Spring Branch, Texas
Center for Automotive Research at Stanford (CARS) Award for Automotive Innovation
1928 Mercedes-Benz 710 SSK Sport Two Seater
John Houlihan, Ireland
Chairman's Trophy
1952 Alfa Romeo 6C 2500 SS Touring Spider
Matthias Metz, Rosengarten, Germany
Charles A. Chayne Trophy
1968 Lamborghini Miura P400 Bertone Coupé
Raphael Gabay, Philadelphia, Pennsylvania
Classic Car Club of America Trophy
1930 Cadillac 452 Fleetwood All Weather Phaeton
Hans Emerén, Nadar, Malta
Elegance in Motion Trophy
1947 Delahaye 135 MS Figoni et Falaschi Narval Cabriolet
Dana & Patti Mecum, Geneva Lake, Wisconsin
Enzo Ferrari Trophy
1950 Ferrari 166 MM Touring Barchetta
Clive & Alison Beecham, London, United Kingdom
FIVA Prewar Trophy
1933 Duesenberg SJ Weymann Speedster
The Anne Brockinton Lee/Robert M. Lee Automobile Collection, Sparks, Nevada
FIVA Postwar Trophy
1956 Ferrari 410 Superamerica Pinin Farina Coupe
Alex & Judy Albarian, San Clemente, California
The French Cup
1927 Bugatti Type 38/49 Figoni Cabriolet Philadelphia
Luc Slijpen, Maastricht, The Netherlands
Gran Turismo Trophy
1933 Alfa Romeo 6C 1750 Gran Sport Figoni Coupé
David & Adele Cohen, West Vancouver, Canada
Lincoln Trophy
1932 Lincoln KB LeBaron Convertible Roadster
Larry Carter, Los Gatos, California
Lorin Tryon Trophy
John Bentley
Lucius Beebe Trophy
1933 Rolls-Royce Phantom II Brewster Special Permanent New Market
Lehrman Collection, Palm Beach, Florida
Mercedes-Benz Star of Excellence Award
1937 Mercedes-Benz 540K Special Roadster
Jim Patterson/The Patterson Collection, Louisville, Kentucky
Montagu of Beaulieu Trophy
1965 McLaren M1A Race Car
Egon & Birgit Zweimüller, Ennsdorf, Austria
The Phil Hill Cup
1957 Maserati 200SI Fantuzzi Spyder
Jonathan & Wendy Segal, San Diego, California
Tony Hulman Trophy
1988 McLaren MP4/4-2 Formula 1 Race Car
Mouse Motors, Chicago, Illinois